Success Stories
"I can't say enough positive about working with NCP. I can call, email or text, and they help. President Steve Dawson came to Colorado and met with our building team, our trustees and attended our grand opening. He was proud of what we've done." – Clay Peck
The Background: Grace Place in Berthoud, CO, has always had a clear vision for ministry. "We're about building bridges to the community and extending hospitality to the family," said
Pastor Clay Peck. For the first 19 years of its 20-year ministry (as of fall 2016), Grace Place was
located in a small building in downtown Berthoud. As the nondenominational congregation grew, it moved to three services and began using adjacent facilities for children's ministries. Middle and high school students met two blocks away. Additionally, the congregation ran a
commercial restaurant as an outreach ministry in its cramped building. "Needless to say," Pastor Peck said, "our setup was not convenient for visitors or families."
Under Pastor Peck's leadership, the congregation joined The Evangelical Covenant Church in
2014 after a five-year relationship-building process. "When we started our investigation of the
ECC, I had no idea we were going to find land and relocate, and I had no idea the ECC had a
lending arm," Pastor Peck explained.
The NCP Solution: "Connecting with NCP was a wonderful surprise," Pastor Peck said. "Steve
Dawson was our primary contact. He has the experience and mind of a banker, and he has the
heart and the faith of an evangelist." Guided by the church's mission, and in partnership with the congregation's leadership, Steve and the NCP team put together a solid financial plan
around a strong capital campaign – with the congregation exceeding the giving goal – and
a significant loan for the new property purchase and facility construction. The financial plan
also included the sale of the church's existing properties.Grace Place purchased 20 acres along the bypass around Berthoud, which carries more than 30,000 vehicles a day, and which faces the mountains on the other side. The new site includes space for all the church's ministries and activities, as well as the re-opened Trailhead Café, which attracts people from all around the region. "This is a place where people start journeys, including spiritual journeys," Pastor Peck said. "NCP understood a church like ours, that's externally focused and that wants to be creative in reaching the unchurched."
Community Assets for Detroit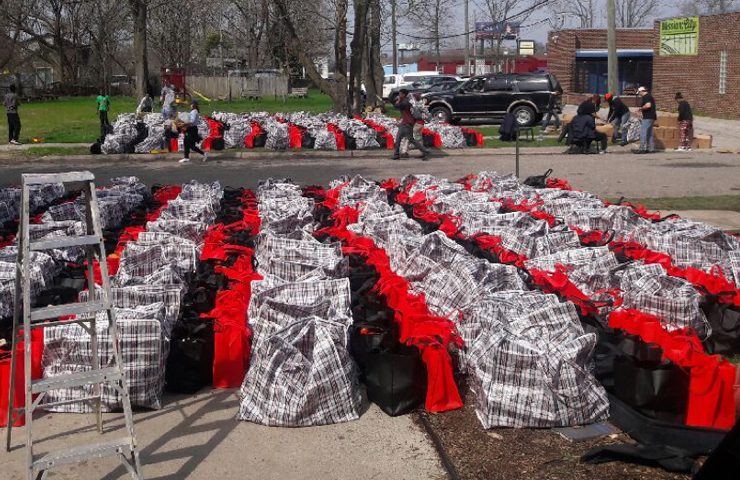 Last Easter, City Covenant Church and its Mission City partners delivered more than 400 baskets to the community.
City Covenant Church in the Brightmoor neighborhood of Detroit is investing in its community through its own ministries and through sharing its Mission City building. Walking with National Covenant Properties through negotiation of an existing bank loan to convert it to a lower-cost loan with NCP, City Covenant was empowered to help others.
"Our buildings are a tremendous community asset for both the Brightmoor neighborhood and the city of Detroit. The facilities are used as resource centers for our own extensive ministries, as well many community partners and stakeholders. It's all because of the wonderful movement of God and the trust National Covenant Properties placed in us. To God be the glory."

—Semmeal Thomas, Senior Pastor, City Covenant Church 
Through partnership with NCP, City Covenant Church:
Received assistance in acquiring the property across the street
Refinanced and obtained a more favorable loan with NCP
Is better able to focus on community needs and outreach ministries
Visit citycovenantchurch.org to learn more about City Covenant Church.
Realizing the Dream of a Church Home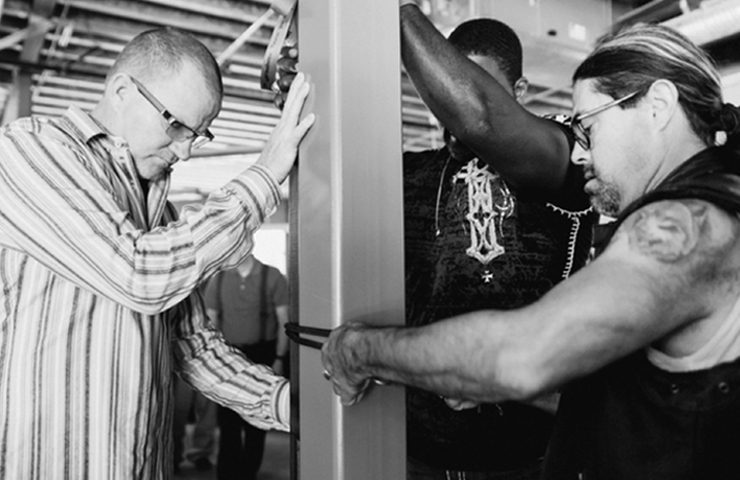 The Rancho Vista congregation prepares to dedicate its new facility and launch construction to renovate the interior by raising a cross.
Finding affordable property in Southern California is a challenge. When the congregation of Rancho Vista Covenant Church in Chula Vista wanted a permanent home, leadership partnered with National Covenant Properties. The result was the purchase of a new but unfinished building—the perfect new home for this congregation.
"For fifteen years we waited, prayed, and dreamed for our own church home. Thanks to the support and wise counsel of National Covenant Properties, we funded our dream. Three days after NCP navigated us through the purchase process we raised the cross of Jesus Christ in our new church home."

—John Rose, Lead Pastor, Rancho Vista Covenant Church
Through partnership with National Covenant Properties, Rancho Vista Covenant Church:
Planned and carried out a successful fundraising campaign
Found an affordable, visible corner location, and the shell of a commercial building waiting for a new interior purpose
Designed a facility that included essential ministry elements while staying within budget
Visit ranchovistachurch.com to learn more about Rancho Vista Covenant Church.
From Airline Terminal to God's Space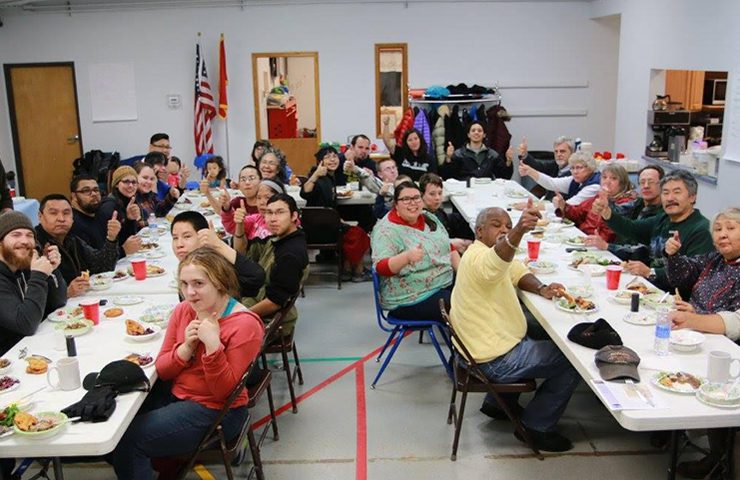 Friends from many Covenant churches gather for Western Alaska ministry training in Bethel Covenant Church's repurposed airline terminal.
In the late '90s, Bethel Covenant Church in a remote area of Alaska, purchased an airline terminal. With God-inspired ideas for ministry, the congregation partnered with National Covenant Properties to acquire, move, and renovate the building. Today, the terminal sits two miles from its original location, and is heavily used by the church and community.
"Through our partnership with National Covenant Properties, our church has been able to use our facility to not only be the light of the Yukon-Kuskokwim Delta, but to be the hands and feet of Jesus. Thanks to NCP for partnering with us. We are blessed to have a facility that is used in many ways to touch the lives of people."

—Hugh Forbes, Pastor, Bethel Covenant Church
Through partnership with NCP, Bethel Covenant Church:
Negotiated acquisition of an adjacent property
Secured a loan to purchase an airline terminal
Experienced expert insight and connections that facilitated results in a remote area
Visit facebook.com/BethelCovenant to learn more about Bethel Covenant Church.