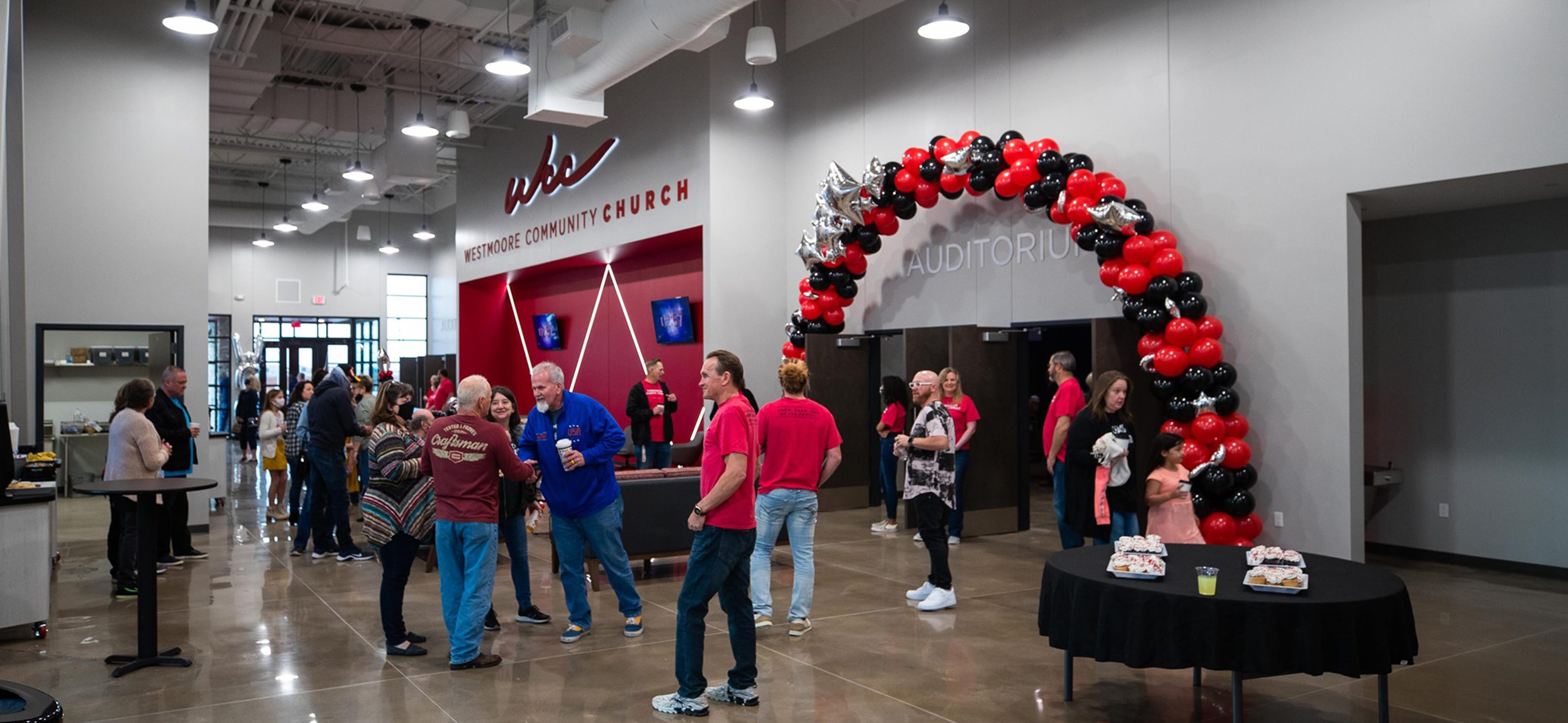 Location: Oklahoma City, OK
Date: December 2021
Westmoore Community Church (WCC) worked with Rob Hall, vice president of real estate services, during their search for property and throughout their building project. Andy Tilly, executive pastor, expressed deep gratitude for Rob and the support he offered during the process.
Andy stated they "couldn't have done it without NCP. You have a ministry and ministry is different than a bank. Ministry happens in the community, it's not always from the stage. Thank you for doing what you do and truly being in ministry. People have come to Christ because we have a loan for a building, and they walked into it. That wouldn't have happened without NCP."
WCC intentionally downsized their auditorium from a seating capacity of 800 to 300. They were looking to create something different than the traditional church building. Their vision was to create a space that fostered community both within their building and through online services. Their new lobby is almost the same size as their auditorium and is filled with places for people to sit together. Their auditorium is now filled with the latest technology including separate sound systems for those in the building and those at home. Westmoore built a building that followed the trend of more people attending their services digitally than in person.
Andy shared with us that the big vision of Westmoore is to create home churches. As part of this vision, they've created small groups where people gather for brunch and attend church simultaneously. They have an online on demand kid experience each week for families who can't attend service in person.
Andy says "it is only through God's grace and mercy and the generosity of their people that they were able to complete this project. Where people see other people being generous it makes them more generous."
Andy stated that "WCC is a place where it's ok to be messed up. We don't want you to stay there, and we'll give you the resources to not stay there but you're welcome here. The world is full of broken and hurting people and it's our job to be Jesus to them."
Westmoore's vision is for the community to be changed to know, grow, and go after Christ.